Augmented Reality transforms Penrith City Centre into a "wonderland of art, exploration, technology and fun!"
ReAnimate Penrith transformed the streets of Penrith, NSW with one of the most progressive, creative and technological experiences in Australia. Using the latest Augmented Reality (AR) technology, combined with huge street art installations and live performances Penrith city centre became a "wonderland of art, exploration, technology and fun!" between 1st Nov 2020 and 31st Jan 2021.
The team at Catalyst VR worked in collaboration with Penrith City Council and some of Australia's most talented urban and street artists to create immersive augmented reality animations, interactive AR experiences and develop the ReAnimate Penrith AR App.
The ReAnimate Penrith augmented reality experiences included huge street art murals from Claire Foxton and Dan Cydes which came to life when viewed through the ReAnimate Penrith App, throughout the streets of Penrith dozens of augmented reality characters and objects could be viewed in 3D, hugely popular AR posters featuring the work of Craig Bunker were placed thought the city and an innovative 3D AR Colouring In experience was used within Schools and by kids at home.
Video:  Custom Augmented Reality development by the team at Catalyst helps being the streets of Penrith to life. 
The ReAnimate Penrith art and technology experiences were hugely popular with the organisers extending the festival till the end of the school holidays to accommodate thousands of families, school children and young adults experiencing the event. The ability to engage so many people, over such a large area (ReAnimate covered approx 10,000 sqm) and easily run events over an extended time period are some of the big advantages of Augmented Reality and part of the reason why the technology has become so powerful as a marketing tool.
ReAnimate Penrith was developed for IOS and Android by Catalyst VR as a free downloadable App. The AR characters and effects were integrated into the wall murals, floor decals and posters placed around the city and triggered when viewed through the users mobile. Users of the ReAnimate App were able to take photos and instantly share their AR experience on Social Media using #ReAnimatePenrith. Being built as an App also allowed Penrith City council to collect valuable insights on how the App was used, link to other Government website and optimise the AR experience.
Images: ReAnimate Penrith had a huge response on Social Media with hundreds of visitors creating and sharing content #reanimatepenrith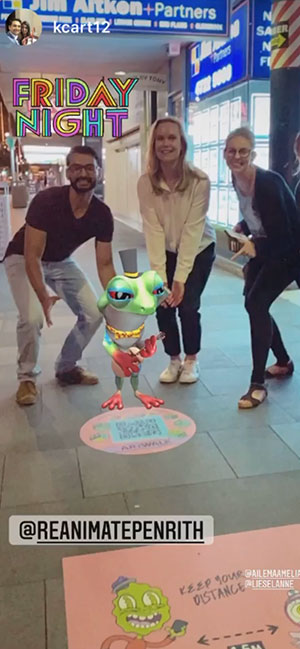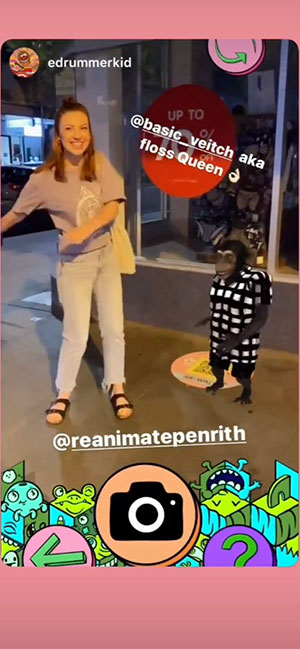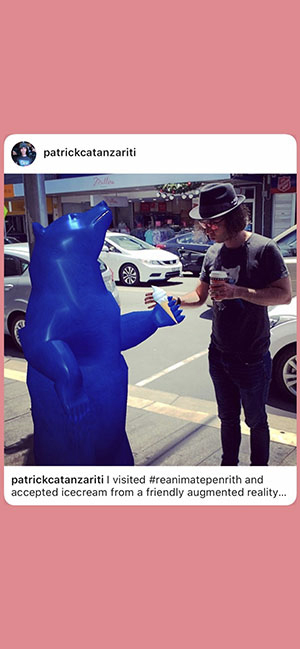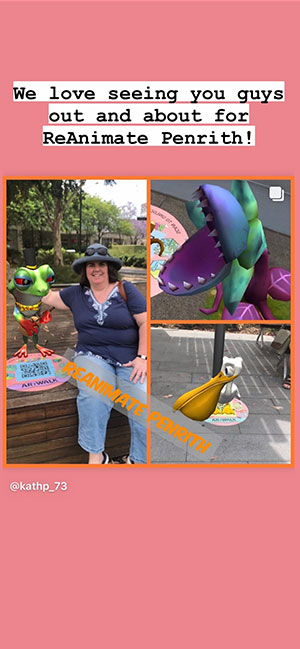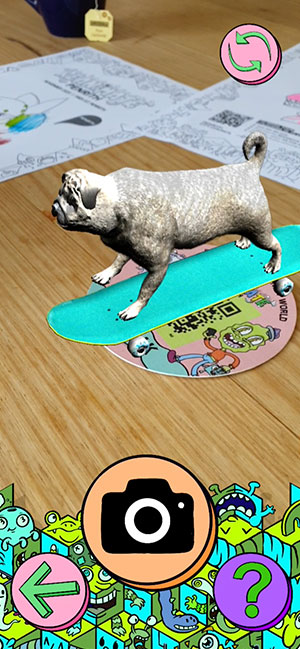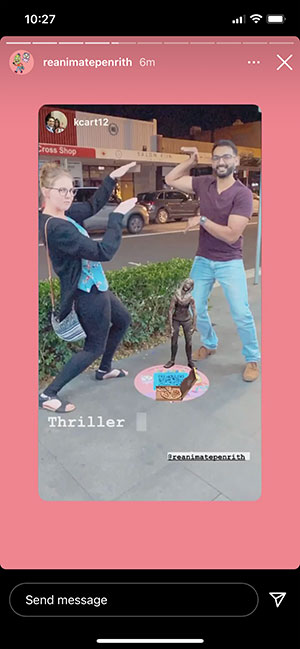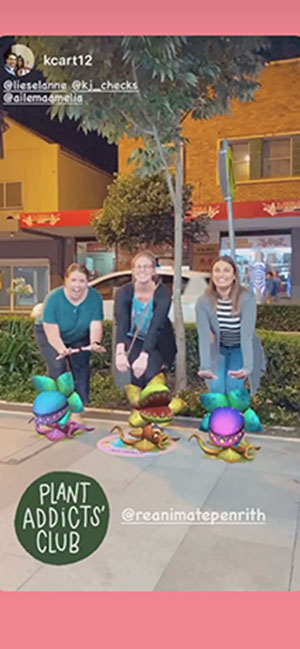 AR characters and objects developed by Catalyst for ReAnimate Penrith included a pizza eating Zombie, a chimpanzee doing the 'floss' dance, the classic gameboy game Tetris, a giant flying dragon, venus flytraps, a giant gum-ball machine, pelicans and a portal into space!  There was also a collaboration with Penrith City Library integrating AR effects featuring classic books and artwork, while the AR Colouring In feature enabled kids to participate in an exciting new way to view their own art using Augmented Reality.
Another huge success of ReAnimate Penrith was it was run during the Covid-19 pandemic, at a time when governments are desperately looking for ways to revitalise city centres and support local business in a safe and responsible manner. All around the world events, activations and public experiences have been impacted with cancellations or postponements while organisers grapple with how to run safe events. The Penrith ReAnimate Festival was still a huge success for Penrith City as it was run while ensuring public health guidelines including safe social distancing could be observed. As AR relies on the participants personal mobile device there is also no need to share devices or interact with other objects.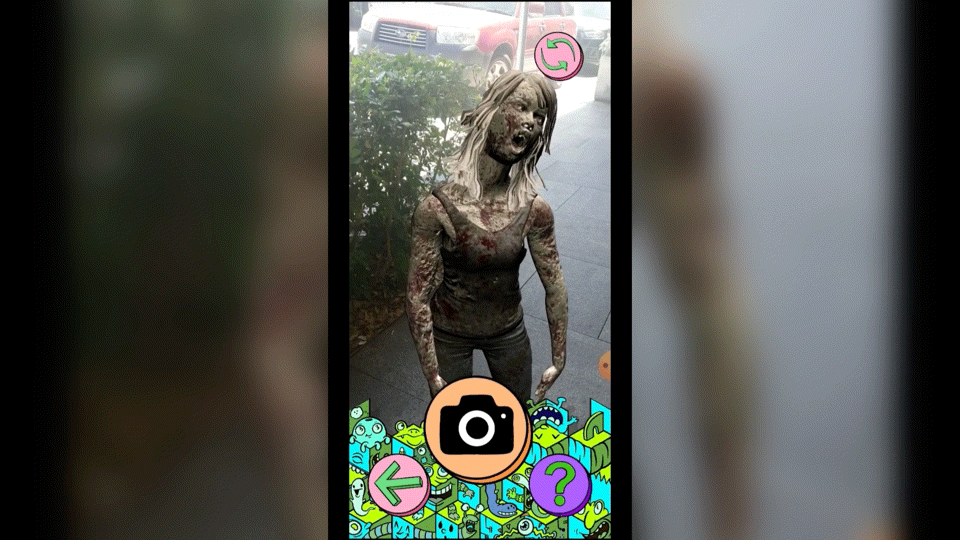 Penrith City Council has a commitment to create a vibrant city, and history of running exciting, innovative events so it is no surprise they turned to AR as a means to create an engaging, interactive and immersive experience.
Augmented Technology uses smart phone technology allowing the user to view 3D characters and objects through their camera. AR tracks different surfaces through the camera and places virtual objects in the real world, in real time creating an exciting digital experience. Many people experienced AR for the first time with Pokemon Go which has been downloaded over 800 million times world wide, since then AR has become one of most widely adopted technologies for marketing activations and campaigns driven by a mobile first generation and people looking for new technology led experiences.
Catalyst have become leaders in AR experiences with an international team focused on the design and development of Augmented Reality experiences. Catalyst develop custom AR across Apps, Web and Social Media platforms, find out more.
Video:  The ReAnimate Penrith festival combines Art and Technology