Augmented Reality Lens development for NRL Magic Round 2019
NRL Magic Round 2019 was the first time a full round of the National Rugby League had been played at one location over one weekend.  All 16 Teams, 1 Ground, 1 Weekend.
Played at Brisbane's Suncorp Stadium, May 9-12. Magic Round included live music, entertainment and food stalls creating a rugby league festival for fans.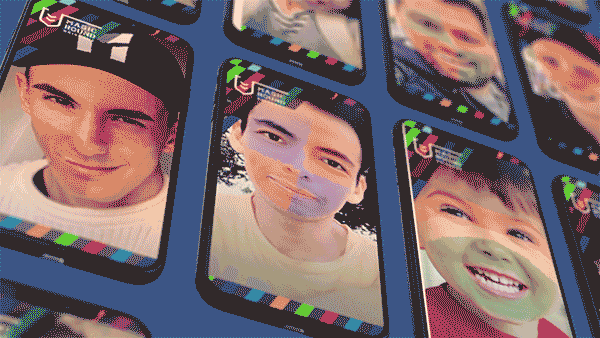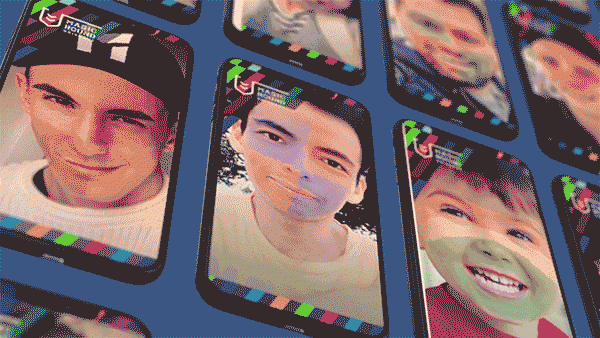 Creating a unique Fan Experience using AR Lenses
For Magic Round 2019 the NRL wanted to create a unique fan experience, increase engagement and awareness amongst sporting fans.
Being such a unique professional sport event there was an opportunity to enhance the Magic Round experience with the latest digital technology. The NRL wanted to give fans a new way to participate in the event and share content not only at Magic Round but across Australia (and the World) increasing awareness and interested in attending future Magic Round events.
Catalyst were challenged with developing an AR Lens which would engage the NRL's huge digital following and reach a new audience through user generated content sharing. With a broad fan base the AR Lenses were to be developed for the NRL's Facebook and Snapchat channels maximising fan engagement and reach.
Developing the NRL Magic Round AR Lens
Catalyst used the lasted facial modelling, design and tracking to create the NRL Magic Round AR Lens. Custom augmented reality programming created a multiple effect lens, within the one Magic Round AR Lens fans could cycle through all 16 teams and were instantly transformed with team designs which would track facial features and movements.
Each NRL Team had a custom 3D face mask designed using team colours and patterns. Magic Round branding and livery including the Magic Round logo was added to the Lens. Once created the AR effects were then deployed on Facebook and Snapchat ensuring that the NRL reached existing followers and a new audience across social media

Thousands of Fans use NRL Magic Round AR
Launched for the Magic Round weekend across the NRL's Social Channels, the Magic Round AR Lenses were used by thousands of fans sharing support for their favourite teams. Creating AR photos, videos and GIFs, fans were able to share their support with family and friends instantly across social media. The interactive, experimental nature of AR Lens posts increased fan engagement and time spent with the NRL.  The AR Lenses created a unique Fan experience which was both interactive and instantly shareable.
The NRL's magic round was hailed a runaway success with more than 134,000 fans descending on Suncorp Stadium. The captivating, interactive appeal of Augmented Reality and the NRL's custom Magic Round AR Lenses ensured maximum engagement with Fans at the stadium and at home.
Running the Augmented Reality effects across Facebook and Snapchat allowed the NRL to reach thousands of fans with a unique digital experience and increased awareness about Magic Round.
With the huge success of Magic Round no doubt thousands of sports fans have added it to their sporting bucket list for 2020. And given the popularity of the Magic Round AR Lenses it's likely we'll see even more exciting ways to increase fan engagement using Augmented Reality.
The future of AR Lenses
With AR Lenses being so accessible and engaging they are quickly being adopted by brands across sport, entertainment, movies, music and popular culture. Catalyst are at the forefront of AR development having developed AR Lenses for AFL and Australian Cricket teams in addition to the NRL. New opportunities for AR Lenses include direct links to e-com purchases and ticket sales. AR Lenses are also being incorporated into live event and stadium experiences using technology including Catalyst's Stadium AR Fan-Cam.
Augmented Reality Lenses have become a huge feature of Social Platforms with millions of Australians using AR Lenses to create, engage and share content. Recent statistics from Facebook reveal that over 1 billion people worldwide have used AR effects on Facebook. On Snapchat 70% of users play with AR Lenses on a daily basis for an average of 3 minutes per day.
Catalyst are always happy to help anyone looking to get started with AR Lenses, find some inspiration or manage their AR development.
For more information;
Visit:  https://catalystvr.com.au/services/augmented-reality/
Australia:   jamie@catalystvr.com.au
United Kingdom:   laura@catalystvr.co.uk