The NSW Department of Planning and Environment has a goal to increase urban tree canopy across the Greater Sydney Region to 40 per cent by 2030.  A range of initiatives are being used to help achieve this goal including a target of planting five million trees.
The NSW Department of Planning and Environment in partnership with Catalyst embarked on an ambitious Virtual Reality program to help engage residents of Greater Sydney with the Five Million Trees program.
Virtual Reality was chosen due to its powerful ability to immerse users in an experience. The objective of the Five Million Trees VR project was to immerse viewers in a flyover of Greater Sydney showing the impact planting Five Million Trees would have on Sydney's urban canopy.
To achieve this, the team of animators at Catalyst had to build a 3D model of Sydney from scratch. Starting with existing map and photogrammetry data of Sydney, the initial 3D model was built. Teams from the NSW Government then advised on likely planning, construction and environmental factors that needed to be considered in the animation build.
Building density, housing and urban design changes were made to the model before textures and features were added.  Regular review and planning sessions with the project team saw changes to the design and aesthetics to ensure an accurate representation of a future version of Sydney.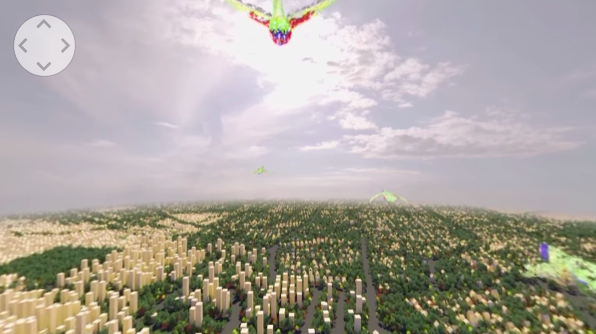 Once the 3D Virtual Reality Model of Sydney was complete, additional local features, characters and buildings were animated. The growing tree canopy across Greater Sydney was then created using detailed animation models.  Special consideration was given to animating specific Australian native trees and to ensure the planting and placement was in line with planning controls and objectives.
A dynamic flight path for the VR experience was then designed, starting in the east over Sydney Heads and travelling up Sydney Harbour to the Opera House and Harbor Bridge before following the Parramatta River to finally finish travelling up and out over the Blue Mountains.
The result is a stunning, Virtual Reality journey across Greater Sydney as the urban canopy increases, with trees reaching through commercial and residential areas. The Five Million Trees VR Experience was launched in May with key members of the NSW Government participating ahead of a public launch at the Home Show.
The Five Million Trees VR Experience at the Home Show had a huge impact with hundreds of visitors participating. The detailed animation and immersive experience drew a big response from participants many of whom had not experienced VR headsets before.