WHY SHOULD I USE VR AS PART OF MY CAMPAIGN?
WHY SHOULD I USE VR AS PART OF MY CAMPAIGN?
Virtual Reality hit the mainstream in 2016 and this year we can expect to see even more marketers, advertisers and event organisers turning to VR and 360 video to communicate their message and connect with their target audience.
But why should brands start looking to VR and 360 video as their chosen marketing vehicle? Let's explore: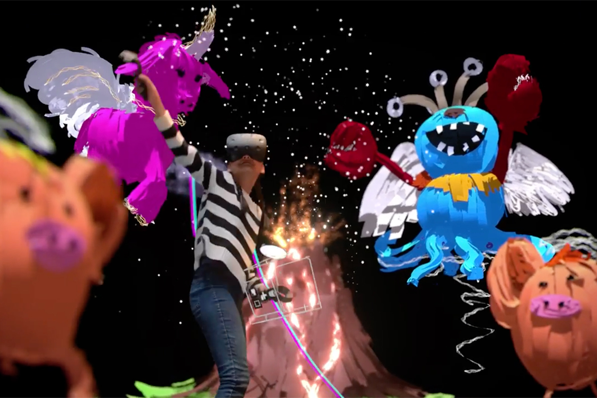 Virtual Reality has really taken off due to three big factors that occurred over the past two years. Firstly, the technology finally caught up with the promise. From a filming and editing perspective we can now film, animate and produce 8k quality VR experiences that look fantastic and are breathtakingly real. From a hardware perspective, VR headsets such as the Samsung Gear VR, Oculus Rift and HTC Vive are easy to use and above all affordable, so brands, events and the everyday consumer can now easily purchase a headset to begin watching and interacting with the best VR content out there.
Secondly, people and brands are creating great content! Some examples include the New York Times who created their own VR App NYT VR and have been releasing compelling news, sport and lifestyle related 360 video and VR content on a regular basis. Google are also getting behind VR with their App Google Spotlight Stories and these are just two of the many companies focused on creating immersive 360 and VR content.
And that leads me on to my third point; that there are now so many ways to interact with 360 videos and VR. Anyone can upload 360 content to YouTube and Facebook which can be viewed on mobile, tablet or desktop. YouTube now has the functionality to make 360 content compatible with any Google Cardboard device for easy VR content consumption.
Another great reason to look at VR is to do with storytelling. Brands ultimately want to connect with the consumer in a way that is meaningful and leaves a lasting impression. The problem with traditional 2D video is that there is often a translation gap between what you see on the screen and what you believe to be true. Virtual reality content allows you to place the consumer inside the narrative, allowing them to live your brand story and take a journey that is fully immersive and far more engaging. People talk about VR being an empathetic medium, as you can literally walk in someone else's shoes just as you do in the UN's Clouds Over Sidra. They talk about it being engaging and exciting, and if you've ever jumped off a cliff or out of a plane in VR then you know just how much of an adrenalin ride VR can be.
Finally, the results speak for themselves. There are countless case studies like this one by Google and Columbia Sportswear which compares 360 video content to traditional 2D content and concludes that 360 outperforms 2D on nearly every metric but especially on engagement and sharing. VR has also been proven to improve sales; just look at how Amnesty utilised VR content to increase their on-the-ground donations by 16%.
So why aren't more brands investing in 360 and VR? It's a good question. Many brands have already taken the plunge and are reaping the rewards, but my guess is that those yet to follow simply don't fully understand the medium. Misconceptions I regularly hear include concerns around price, quality and distribution. Many think that when creating a VR experience it can only be viewed through a VR headset. On the contrary, we always suggest clients upload their content as a 360 video to Facebook, YouTube or their own website. The ultimate experience is through a headset but 360 videos play amazingly well online and can still produce a memorable and individual experience for the viewer.
It's exciting to see the way VR has been utilised by so many industries already; travel, journalism, education, health care, architecture and marketing have all been embracing VR and the applications and uses for VR seem to be endless, with new industries adopting VR daily. Our prediction is that just as you had to make your site responsive for mobile, so too will you have to make it responsive for VR. So why not get ahead of the curve and create your first piece of VR today?