Augmented Reality on Social Media: Trends and Insights as Users Top One Billion
What is trending in 2020, what's driving all the engagement and usage of Augmented Reality across Social Media?
Augmented Reality on Social Media
Trends and Insights as Users Top One Billion
Josh Mitchell, VR/AR Producer at Catalyst
Augmented Reality has rather predictably exploded on Social Media with Facebook reporting over one billion people had experienced AR on their platform by mid 2019.  The introduction of Augmented Reality on Instagram was a big driver of this growth with hundreds of creative AR effects available for users to experience, explore, play and share.   
So what is trending in 2020, what's driving all the engagement and usage of Augmented Reality across Social Media?
AR Effects in Instagram Stories
Try this experiment now - open the Instagram app and swipe through your last 10 stories. How many of these use an AR filter? In my feed 7 out of the last 10 stories featured an AR filter.
One reason why AR filters in Insta stories are so popular is how easy they are to find, use and share. If you see an Instagram AR filter in a story you see the name of the filter and its creator at the top.
When you tap this name Instagram offers you the option to try the AR filter yourself. You can then instantly share this to your own story. If your AR filter is fun, innovative and well-designed the opportunities for organic reach are tremendous. Just think about the amount of times you have seen the 'What Disney character/Pokemon/Simpsons character' AR effect in the last month?
Instagram AR Shopping
This has been in closed beta for a long time with only a select few companies given access to these tools. What they have created really does show the potential and we are all eagerly awaiting being able to offer this innovative marketplace to our clients. The rumour mill has suggested that time may be fast approaching so as soon as we get the green light we will let you know! 
In the meantime AR online shopping is available via iOS and Android apps. A great example of this is Wanna Kicks, an AR app that allows you to try on AR shoes by Nike, Adidas and New Balance. If you find a pair that you like, you can purchase them straight from the app.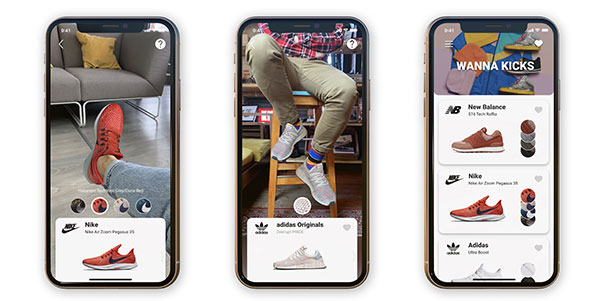 Facebook AR Announcements 
Although at times Facebook seems to be less on trend (don't even get me started on Tik Tok), worldwide it still has four times the daily users of Instagram.
At Catalyst we have had great success in using the Facebook platform for AR 'announcements' on brand Facebook pages to build awareness and hype. One example was to announce to Sydney Sixers fans that Steve Smith had re-signed with the club. We released an AR model of the SCG with a giant screen above it showing real video and audio of Steve Smith personally telling his fans that he was back and ready to play.  
Snapchat AR Innovation
Snapchat seemed to be on its last legs in late 2018 but in the last two years has made a stunning recovery. A large part of their new strategy was to embrace Augmented Reality. In Q4 of 2019 Snapchat reported 163.5 million daily active AR users with 75% of all Snapchat users engaging with Augmented Reality. In March 2020 Fast Company named Snap, 'The world's most innovative company of 2020.'* We enjoy working within the Snapchat platform as it allows our developers to really push the limits of what is possible in phone based AR. For example last month Snapchat made available Ground replacement. These lenses utilise segmentation technology and machine learning but more importantly they look amazing and are very shareable.
*https://www.fastcompany.com/90457684/snap-most-innovative-companies-2020
AR Portals 
Portals are a fantastic use of phone based AR as they can immediately take a user out of their lounge room and into another place. Using the motion sensors and cameras the user can walk around and explore this virtual environment. With great design it really does feel immersive. We can now build portals for Instagram, Facebook, Snapchat and Web AR.
Here is a demo of an AR Portal built by the Catalyst VR Team
The best and most creative Augmented Reality Lenses and Effects
>>> Augmented T-shirts
Scandanavian T-Shirt company Carlings released an augmented reality T-shirt designed to reduce the environmental impact of fast fashion. The T-shirt looks quite plain until viewed through an AR filter hosted on the Carlings Instagram page.
>>> Digital Fruit Basket AR Face Filter
AR filters with the highest engagement are often front facing as people do like to share images of themselves! This Facebook hosted AR 'Fruit basket' is a great example of a relatively simple yet very effective and very shareable filter. 
Check it out here 
>>> Back to the Future AR Experience
Over 2020? This Instagram filter puts the famous time-travelling car from Back to the Future in your lounge room and lets you climb in and travel through time. Perhaps into 2021? If you flip the camera the AR filter becomes a game where you control the car by moving your head.
>>> Polaroid AR
Feeling nostalgic? This Instagram front facing filter removes your background and copies your face onto a polaroid photograph. The animation of the camera taking the photo is very clever.
 >>>  National Geographic April Earth Cover
This April National Geographic released their first Augmented Reality front cover. The cover is hosted on Instagram and you don't need a physical magazine to view it. Users see projected climate data in 12 key cities around the globe and get a sense of what those places might feel like 50 years from now.
You can check out the cover for yourself here:
https://www.instagram.com/a/r/?effect_id=238102353981031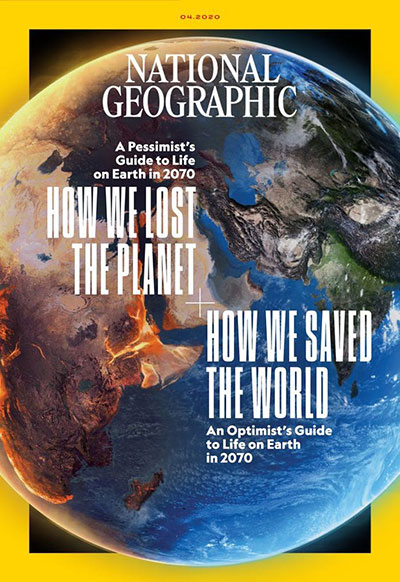 We'd love to hear from you!
Catalyst are always happy to help anyone looking to get started with Augmented Reality, find some inspiration or manage their AR development.
For more information;
Visit:  https://catalystvr.com.au/services/augmented-reality/
Australia:   jamie@catalystvr.com.au
United Kingdom:  gabriel@catalystvr.co.uk